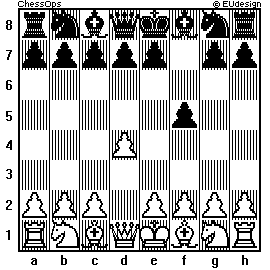 [ECO code A80 > 99]
(Queen's Pawn Opening)
THE DUTCH DEFENCE
---
Black advances his (her) King's Bishop's Pawn before KKt development to control White's K4(e4) - a move appealing to attacking players! The Dutch is less suitable for beginners (as this non-developing move exposes Black's king) although it gives White little choice except to take the normal course of the opening (or else play the Staunton Gambit). B-Alt.

	White	Black
 1.	P-Q4	P-KB4

---
WHITE to or Undo or Jump or Clear
Do not scroll the screen...!
You can do better than that! Try another move!!
- press your browser "back" button to see the board again -
(ignore if you scrolled to here)