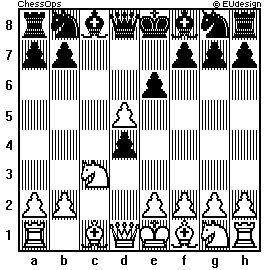 [ECO code D32] Do not scroll the screen..!
QGD. - TARRASCH DEFENCE
The Schara-Hennig Gambit (=Hennig-Schara)
---
White's QBP capture on Q5(d5) invited an exchange.
Black recoups on his own Q5(d4) with his QBPawn from QB4(c5) so as to attack White's QKt (offering to sacrifice the new Black QP in exchange for a couple of tempi), deferring the 4..KPxP of the main. B-Alt.

	White	Black
 1.	P-Q4	P-Q4
 2.	P-QB4	P-K3
 3.	Kt-QB3	P-QB4
 4.	BPxP	BPxP!?

---
WHITE to or Undo or Jump or Clear
Do not scroll the screen...!
You can do better than that! Try another move!!
- press your browser "back" button to see the board again -
(ignore if you scrolled to here)